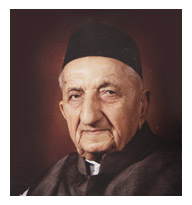 Founder
The legend who gave birth to a glorious tradition
He is widely respected as a pioneer who founded one of the largest real estate business organizations in Maharashtra. He has explored most parts of the world through his various tours. But, the first travel in his life was at the very early age of 10 that too, not for recreation but to do a ton of drudgery in his maternal uncle's grocery shop.
And, that's how the journey of Shri. Manohardas Thakker started with humble beginnings. He toiled from dawn to dusk in the grocery shop and looked at every hardship as an opportunity.
Around the age of 20, the young Manohardas ventured to independently run a rationing shop in Nashik. The experience he earned during his stint as a ration shop keeper, gave him a stepping stone to take a leap to a new field of business contracting. Doing business by strictly adhering to his own ideals of probity and humanity has always remained his earnest passion from which he has never deviated.
Shri. Mahohardasji celebrated his 85th birthday on 26th June, 2011. People are wonder struck to see him attending the Thakkers Corporate Office with youthful smile and enthusiasm every day. He has been a guiding light and a source of inspiration to his sons and grandsons and the people around him to take his tradition of piety and sublimity in business further and further.